Hatton by Design takes a look at Carrie Bradshaw's iconic diamond engagement ring!
Another day, another movie gem!
With just five days to go until the Oscars, I'm celebrating the big screen and in particular the big jewels and today leads me to MR BIG and Sex and the City 2. All the original cast return with Carrie Bradshaw played by Sarah Jessica Parker and Mr Big, actor Chris Noth seeing their characters continue their love story two years after their wedding.
Yes Sex and the City 2 doesn't disappoint with it's fabulous fashion, great soundtrack and the inevitable love dramas! Featuring an over the top Liza Minnelli officiated wedding (!) and a glamourous trip to Abu Dhabi, there's plenty of fun and frolics to be had.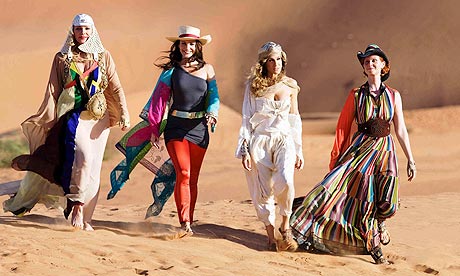 After one drama too many, the end of the movie sees Mr Big bring the romance back and hit the jackpot when he presents his wife Carrie with a diamond engagement ring. But what style do you give the most stylish one of all – something completely unique of course!
Big presents Carrie with a black diamond in a stunning halo setting – we love! There's plenty of jewellery inspiration in the movie trailer too – enjoy!
Photos courtesy of The Daily Mail and The Guardian.